"I Amsterdam," a red-and-white lettered sculpture that once sat prominently outside the Rijksmuseum, has been removed.
Mass-tourism is the reason behind the decision. The letters "were removed at the request of the City of Amsterdam because they were drawing too big of a crowd to an already limited space." Usually a sculpture being immensely popular is considered a positive. However, in recent years, certain parts of Amsterdam have experienced so much tourism that the oft-photographed "I Amsterdam" has become a hindrance.
"I Amsterdam" is not gone forever, though. The sculpture hereafter is going to make appearances in locales that are a bit lesser-known.
So, if you're planning a trip to Amsterdam, where should you go in order to snap the famous sculpture?
The locations "I Amsterdam" will be placed in the future are top secret, but here are a few of Amsterdam's hidden gems we think would be perfect to host the sculpture. [source: Awesome Amsterdam]
What's more secret and underground than an actual bunker? (Yes, this is an actual bomb shelter from the Cold War.) Now, Vondelbunker hosts a variety of interesting counterculture activities. You will find concerts, movie nights, and art exhibits, or enjoy dinner and a drink. (There's even a micro-brewery: Bunkerbier!)
Amsterdam's newest park, Schellingwouderpark, is still undiscovered by many Amsterdammers. Maybe part of the reason for that is because it is only reachable by a little boat! It's located near the end of the charming Nieuwendammerdijk in Amsterdam Noord. Take a picnic and check out the views over Het IJ or go swimming in the summertime.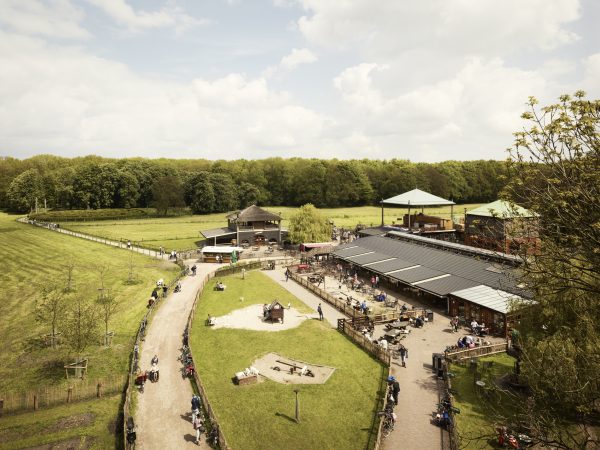 Geitenboerderij Riddammerhoeve
Goats. A whole bunch of goats. There is a biodynamic goat farm in the middle of Amsterdamse Bos where you can interact with the animals and buy farm fresh products including milk, cheese, meat, honey and eggs. Geitenboerderij Riddammerhoeve is a great place to spend an hour or two and come home with the freshest food. (They even have goat milk icecream.)
The island in the Ijmeer known as Pampus was built as part of the Defense Line of Amsterdam in the late 19th century. Now you can visit the abandoned fort and sometimes even have dinner and drinks during their special events. You can reach the island by ferry from Muiden or Amsterdam. In the months of November and December you can enjoy Winterlicht, an evening of locally brewed beer from the island, dinner based on seasonal products around a fire, and exploring the island and fort at night.
If you're wandering around the Plantage area you might come across a little sculpture garden in a vacant lot. The sculptures are mostly made of metal, are a bit rusty and hide among the weeds and grasses. But what better place for "I Amsterdam" to make a temporary home?