How to get through TSA screening in a breeze. Sometimes?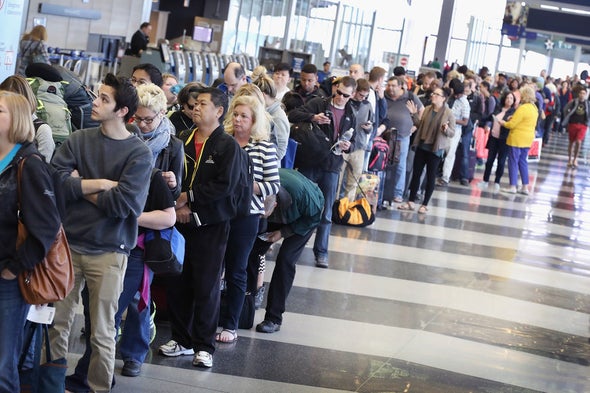 I look with distain at the
hoi polloi
who have to wait in TSA and boarding gate lines and scramble for carry-on storage space.
But in the same vein, I pity the poor road warriors who have to spend their lives trapped on planes and in airports.
I myself am a Gold Medallion member on Delta (earlier check-ins, some upgrades, extra luggage), and a Premier Silver member on United (complimentary upgrades, priority boarding).
Not that great compared to real elite members — Concierge Key, Global Services, Diamond Medallion — but these lesser memberships help me cruise snidely by those waiting in the the general public line.
A few weeks ago at La Guardia, on my way to Sarasota, FL, I was waiting in a crowded TSA Precheck line when people breezed by me in a totally new lane called "Clear."
I was green with envy. I travel a lot these days, and I have become sensitive to these piqiune subtleties.
So when I got up to the Delta Lounge, I immediately tracked down a Clear representative who told me that I would get a $79 total fee rebate if I paid with an American Express Platinum Card. My wife and I signed up eagerly.
Clear is a biometric screening program, now operating at 24 domestic airports, including some terminals at JFK, La Guardia, LAX, Miami and Denver.
The
New York Times
recently published a review of the new Clear line service that backs up my positve impression. It does indeed seem to be faster.
"Clear uses biometric technology — in this case, either a scan of your fingerprints or an iris scan of your eye — to identify who you are and help you get through airport security quickly," explains Caryn Seidman Becker, the company's chief executive.
"Biometrics is a virtually foolproof way to determine someone's identity," Becker adds. "When it comes to flying, the hope is that biometrics will eventually replace the need for a boarding pass or a passport."
Once Clear members arrive at the airport, they go through a dedicated Clear lane to a pod where they either scan two fingers on a fingerprint reader or look at a camera that can read your iris images.
The Clear representative told me, "You don't have to carry any ID."
Normally the price is $179 a year for the first member and $50 for each additional family member. Delta Skymiles members get a discount: as low as $79 per year, depending on your membership plan. More than 1.5 million people are already enrolled in Clear. However, please note that the service does not 100% clear you from TSA screening, as security employees may still flag you for a random search. Clear and TSA are not affiliated.
For me, back in Sarasota, having paid for my Clear membership, I was then disappointed to learn that Clear is not yet operational at that particular airport.
Not to worry, though. I had TSA Precheck on my boarding pass, and Sarasota TSA is never really that busy.
But when I got into the TSA Precheck line, there were 20 people ahead of me. Not really that many, but normally easy Sarasota TSA has spoiled me.
When I glanced over to the general public line, there was nobody in it!
"What is the point of Precheck?" I asked the attendant.
"It's still better," she replied. "You don't have to take off your shoes or take out your computer."
This is comparable to Global Entry, lets you bypass the long lines at customs when traveling internationally.
Membership in TSA Precheck and Global Entry get you a Trusted Traveler number.
The following week, trying to board a flight from Kennedy to Las Vegas, I noticed that my cherished TSA Precheck flag was not on my boarding pass. Panic? This came after routinely having TSA precheck on more than fifty flights!
Perhaps because of this I was not allowed to check in online, and the machines at the airport refused to give me a boarding pass. When I went to the Delta help desk, they said, "You probably didn't pay for it." The agent suggested that the airlines were giving it to me for free.
Years ago I remember this happening, but then I felt sure that at some point I had coughed up the $85 for my precheck, which again was rebated by my American Express Platinum Card.
To further add to my distress, Terminal 4 at Kennedy did not have a functioning Clear line that day.
At home after some calls, I eventually found my TSA Trusted Traveler Number and made sure that my favorite airlines had it so in the future I would not have to suffer these terrible indignities in the future.
Troubles like these will be magnified ten times over the Thanksgiving and Christmas holidays. TSA expects to screen 2.4 million passengers on November 23 alone, and 28.5 million people will fly total during the Thanksgiving holiday period.
Doing what you can to minimize complications is in your best interest.
Write to: jfleetwood@aol.com